How to determine that the computer has a virus
Read about the symptoms that signal the presence of a virus on your computer . How a computer, antivirus program or browser reacts to viruses. Malicious programs or viruses can plunge your computer into chaos. They can deactivate the antivirus program and make the computer vulnerable to other malicious software, interfere with the normal functioning of the computer or damage the files of the operating system.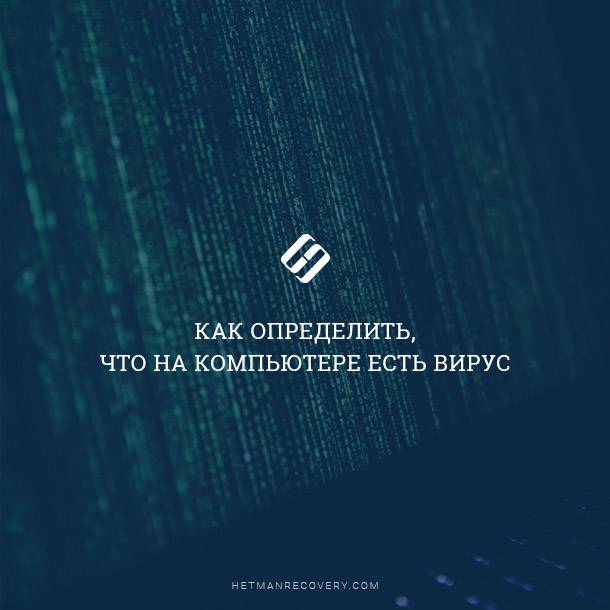 Extortionists viruses encrypt user data in such a way that it is almost impossible to decrypt or restore it. Viruses can access any data, be it personal files, bank data or user passwords, as well as create account duplicates.
What to do to protect yourself and your computer from viruses? You need to start by installing an antivirus program. It also does not hurt to master the skills of safe use of PC. A common cause of computer infection by viruses or other malware is the lack of computer literacy of the user, which should also be tightened.
New types of viruses and malware appear all the time, so they can not always be determined by each anti-virus program, at least until they are entered into the virus signature database. Such fresh viruses can get into the system and go through all software protection.
If you accidentally download a suspicious file that contains a virus or click on an email attachment, your system may be infected with such viruses as: Trojan , Rootkit , Worm , Backdoor , Junkware or Malware . Therefore, before clicking on an unknown file or link, it is better to think twice and make sure that the antivirus program installed on your computer has the latest antivirus signatures.
So, how to determine that your computer is infected with viruses? Here are a few obvious signs that indicate that viruses or other malicious software are present on the computer:
And now in detail:
Your antivirus program is deactivated (disabled) .

Some types of malware can deactivate or disable antivirus software or an antivirus solution to protect Internet users (internet security suite). In this case, malware can freely penetrate the computer, steal or damage data. There are many types of malware, some aimed at damaging or destroying data, others encrypt files and extort fees for renewing access to them. Attempts to reinstall or reinstall antivirus software, such viruses can also be blocked. Once installed on a computer, viruses can make changes to the registry that will block the installation of antivirus programs.

Antivirus program reports the presence of viruses on your computer .

The best way to determine if there are viruses on your computer is to have the appropriate messages from an antivirus program or a firewall. A firewall is a powerful protection tool that controls everything that is downloaded to your computer from the Internet and from your computer to the Internet. Therefore, it is better if both the antivirus program and the firewall are activated on the computer at the same time.

The computer is slow or slow .

If the computer starts to work slower than usual or slow down, this is also a sign that it is infected with malware. To determine what exactly is the cause of PC malfunctioning, just open the task manager and view the list of running programs and processes.

If some unknown application uses a lot of CPU resources, it may be a virus. Also, the virus can use hard disk resources through its activity. Such malware activity can significantly reduce computer performance. Rootkit programs (type of viruses) can also affect the duration of the operating system boot up when the computer is turned on or turned off, as well as causing freezes.

The browser redirects to other sites or does not start .

Browser problems are a key sign that a computer's security is compromised. For example, by searching for information or a website using Google, you find that when you click on the link of the site you want, you don't go to it, but to an advertising site that you didn't search for and you've never passed to it before. The browser may also start to slow or freeze, a large number of add-ons or extensions may appear, if there is an Internet connection, the browser cannot connect to the network, etc. All this indicates the presence of viruses or malware on your computer.

The computer is malfunctioning or freezing during a reboot .

A rootkit or a virus can cause the operating system to become unstable or even make changes to the master boot record (MBR). As a result, computer malfunctions will appear, which will eventually lead to blue screen errors (BSOD) and freezes. This is a typical sign of computer viruses.
These are only the most common ways to determine if there are viruses, malware (malware) or ransomware programs on the computer, and their symptoms. And how quickly the user can deal with such programs on his PC depends on the safety of his data and files.
If, as a result of computer infection by viruses or malware activity, your computer has lost its functionality, which can only be restored by reinstalling the operating system or formatting the hard disk, and as a result your data has been lost or damaged, you can recover it using a data recovery program. Hetman Partition Recovery . Also, we recommend use one of the methods described in other articles of our blog .
What to do to protect yourself and your computer from viruses?
So, how to determine that your computer is infected with viruses?